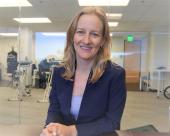 / Hayley Tumanjan
誕生日
9/27
出身地
Torrance
趣味
Working out, volunteering at my children's schools, and spending time outdoors with family.
好きな物
嫌いな物/こと
I love great food, and good company. No dislikes.
今後チャレンジしたいこと
I would like to do some athletic events, and get in the ocean more often.
自己紹介
経歴
After graduating from Long Beach State in 2005 with a bachelor's degree in Accounting, she joined the largest public accounting firm, Deloitte, in Los Angeles where she spent two and a half years working with clients ranging from investment firms to manufacturing & not-for profit entities. During her time at Deloitte, she audited several multi-billion dollar investment and real estate companies including Canyon Capital Advisors, Capital Group, and CB Richard Ellis, Northrop Grumman, as well as one of the largest charitable organizations in the United States, The Salvation Army. In 2007 she joined Canyon Capital Advisors, a $23 billion multi-strategy alternative asset manager in Century City, CA. Over her five years there, her work was focused on accounting for multi-billion dollar portfolios of private investments, as well as monitoring the various tax requirements and legal frameworks of those segments. During her time at Canyon, she spearheaded the implementation of the new fair value accounting regulations across all financial statements for the firm, as mandated by US GAAP and IASB. She has been friends with and worked along side Mr. Ishigami for more than 7 years, and has now officially joined the firm.
座右の銘
好きな言葉
Our work is so personal, I believe it should be done with great care and empathy. When the intention is strong, the results are outstanding.